Carbonara is one of Italy's most traditional pasta dishes, that too often, when prepared across the globe, is not executed following the original recipe. The addition of cream or the absence of eggs (the main ingredient of the dish) can really spoil the essence of such a perfect classic.
The recipe is originally from Rome but a staple for Italian homes across the country. It's origin is unsure, who invented it remains a mystery. Some legends want it inspired by the influence of American soldiers during WW2, that whilst stationed in Italy, came to cook with ingredients most familiar to them – bacon and eggs.
It's definitely an easy and quick recipe to fix a delicious last minute meal with little effort. The sauce can be made in the same time you need to cook the pasta, a 20 minute job – classic Italian home 'Fast Food'. And if you think about it, it's really an Italian version of eggs and bacon.. just pasta instead of a biscuit or bread! Why not try it out for your next home cooked brunch?
If looking for lighter or vegetarian options follow the same instructions but substitute the pork with crunchy roasted veggies. The traditional recipe requires guanciale, spaghetti and pecorino – these are often substituted with linguine, pancetta and Parmigiano Reggiano.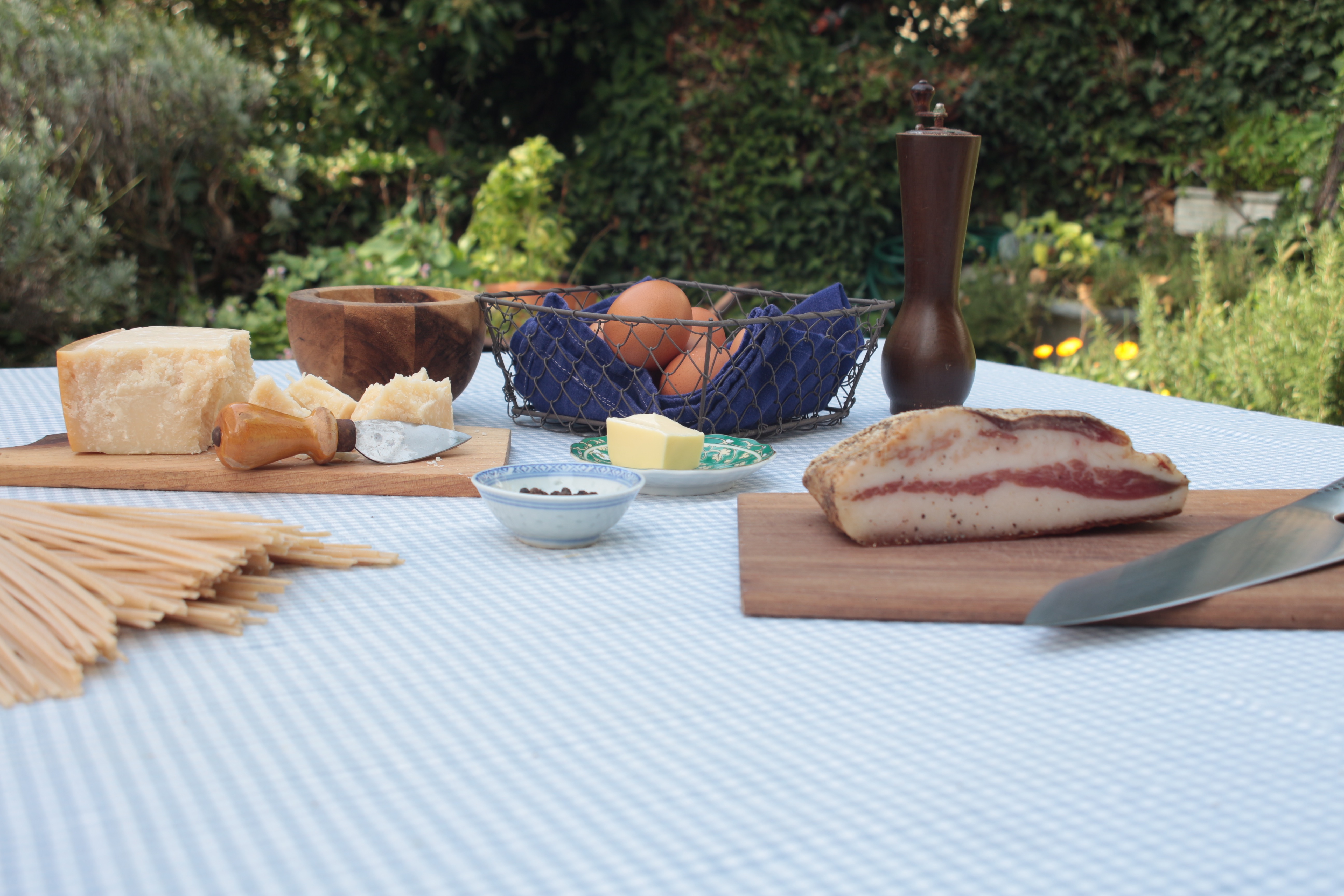 Recipe for 5
Ingredients:
1 pack (500g – about 1 pound) spaghetti or liunguine pasta
For the Carbonara sauce:
5 Eggs
½ pound guanciale (pork jowl) or pancetta, diced
1 tbs Butter (not traditional but gives an extra creaminess to the sauce)
1/2 cup Pecorino Romano and/or Parmigiano Reggiano Cheese, grated
Salt and Pepper
Utensils needed:
Large Bowl
Large pot
Pan
Large Strainer
Method:
Fill the large pot with water and bring to boil.
In the mean while, dice the guanciale and cook in a pan at medium heat until crispy.
In the bowl lightly beat 3 whole eggs, 2 yolks, butter, half the cheese, salt and pepper.
Cook pasta in salted boiling water, according to recommended cooking time written on the box.
When pasta is Al-Dente cooked, drain and transfer directly into the large bowl, adding the crispy pancetta. Mix well and fast, so that the egg does not scramble, but evenly covers all the pasta with a creamy texture.
Place pasta in individual serving bowls and garnish with the remaining Parmigiano Reggiano cheese.
Buon apettito!