Summer is coming to an end and it's time to harvest that overgrown, flavorful green basil in your back yard.
Basil Pesto is originally from Genova, Liguria, on the northwestern coast of Italy. A dish so loved and renowned it has spread all across the Italian peninsula and all over the world as well.
Traditionally it would be served with a shape of short pasta called "trofie" (troh-fee-eh). In this recipe we pair it with "Pici" (pee-chee), a regional pasta from Siena in Tuscany. It's not the most classic of pairings and some might be shocked by this interregional fusion. But what the heck! We live in a globalized society, playing a little with pasta shapes and sauce pairings can't hurt. And Pici with pesto are just delicious.
In this video we show you how to make pesto the traditional way, with a mortar and pestle. You can use an electric blender. Be advised though, the final result will never be as good. It's time-consuming, for sure, but I must admit that pestling each ingredient one by one not only gives you the perfect texture but makes you appreciate each ingredient and it's aroma one at a time, revealing the perfect balance of this sauce. First the pungency of the garlic, then the fatty nuttiness of pine nuts and the invigorating aroma of basil. Mixed with the unmistakable perfection of Parmigiano Reggiano cheese and pure EVOO. Needless to say, the quality of your ingredients will be key in making the dish. Italian cuisine is all about simplicity and elevating its incredible ingredients.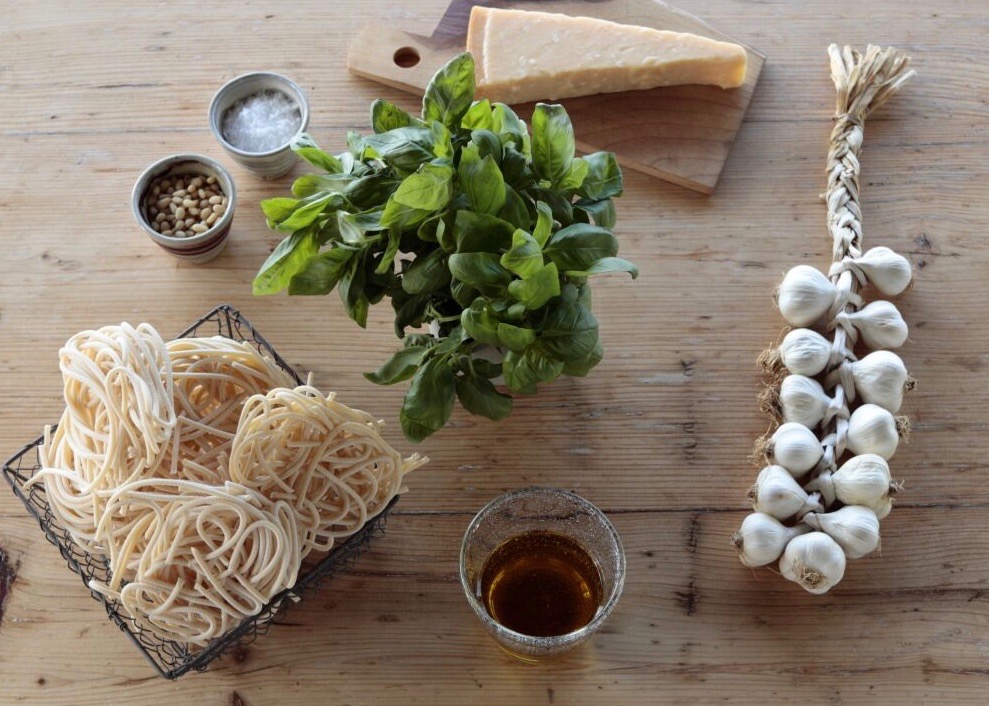 Recipe for 4
Ingredients:
1 pack Pici pasta (500g)
1 tablespoon coarse sea salt for pasta water
1 garlic clove
1 teaspoon sea salt
2 tablespoons pine nuts
2 bunches fresh basil
2 tablespoons parmigiano reggiano cheese (some extra to finish dish)
½ cup EVOO
Method:
Start by grinding the garlic and salt in the mortar. Once turned into a paste, add the pine nuts and pestle until smooth. Then add the basil leaves, a little at a time. Once blended in, add the cheese and pestle until smooth. Finally add the pure extra virgin olive oil: during this step the sauce will emulsify into a creamy texture. Taste to make sure the flavor is balanced, you can always add a little of something.
In the meanwhile boil a pot of water, salt and cook the Pici for the time suggested on the pack. Make sure not to overcook, you want your pasta 'al dente', it needs to have some texture and a bite to it.
Don't heat the pesto, place it into a large bowl, and pour the cooked boiling pasta over it, mix well, and if needed add a little pasta cooking water. Serve with some grated parmigiano reggiano.
Buon appetito!