At this time of the year grocery shops and bakeries all over Italy are filling with stacks of colorful boxes containing all kinds of Panettone, a rich, fluffy, naturally leavened bread cake filled with candied fruit and raisins. Originally from Milano, today it has become a tradition in the Piemonte region as well, where the classic recipe sees the addition of a hazelnut glaze topping. There is another very similar cake, Pandoro, originally from the town of Verona. It is baked into the shape of a star and is without raisins and fruit.
Panettone is a century old tradition, a delicious treat present on all Italian tables during the Christmas holidays. Apparently, the etymology is related to it being, essentially, a large sweet bread: "pane" in Italian means bread and "panettone" literally translates as "large bread". But there's also a legend saying that the inventor was a baker called Toni. The phrase "Pan de Toni" (bread of Toni) triggered the birth of the name.
The secret to any good panettone is the choice of ingredients. Renowned bakers use pure butter, fresh eggs, top quality flours and first choice fruit. The yeast must be rigorously a sour dough (called "madre", mother) essential because it provides a very slow leavening. Some bakers have kept the same starter for centuries, passing it on from generation to generation.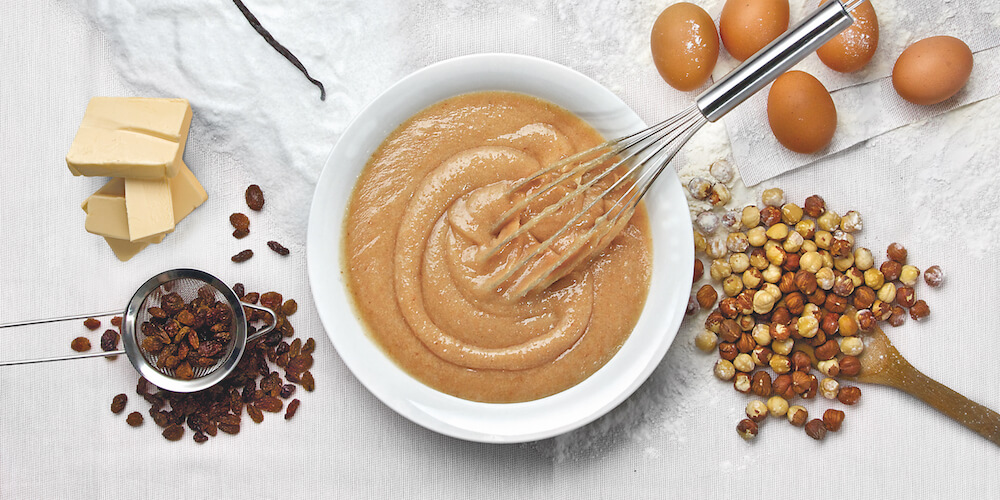 We recently visited Galup, a baker in north-western Italy that has been using the same yeast starter since 1922. This special colony of bacteria has survived a war, witnessed the advent of TV, computers and indeed quite a number of generations. Natural yeasts add complex flavors and unique nuances which commercial yeasts would never be able to achieve.
Panettone is delicious on its own, as a dessert or even as a snack, paired with a cup of tea or coffee. It even makes for a pretty incredible extra-decadent French toast! On Christmas Eve Italians serve it with a fortified wine custard called zabaione. Here is a quick and easy recipe:
Panettone e Zabaione
Ingredients
1 Panettone or Pandoro
4 egg yolks
¾ cup white sugar
½ cup fortified wine (Marsala or Port)
Method
Start by making your zabaione cream. Separate egg yolks and mix with sugar. Once combined place your bowl in a pot with boiling water (bain-marie). Add the wine and whisk the cream until it thickens to a creamy texture. Slice the Panettone and serve with the zabaione on the side.
Buon appetito!