Ready to spice it up the Italian way? This recipe is so simple to make and so delicious, it will be hard not to keep making it over and over. It's exactly what you need for stepping into fall.
Ingredients
1  pack red chili linguine by Morelli
2 tablespoons Sea salt
For the sauce
3 tablespoons Extra virgin olive oil CUCINA by ROI
1 Garlic clove
1 fresh Chili
Leek ½ lb
2 Sausages
Splash of white wine
Parmigiano Reggiano cheese, 4 tablespoons
Method
Fill the pot with 1.5 gallons of water and bring to a boil. In the meanwhile, start making the sauce: mince the garlic and the chili, and slice the leek. Slice the sausage links in half lengthwise and peel off the casing, coarsely chop. Heat the pan and add a tablespoon of EVOO. When it starts to sizzle add garlic and chili, then leek and sausage. Cook for a few minutes, then add the wine. Cook at a medium flame for about 20 minutes. If in need of moisture add a few tablespoons of hot water from the large pot.
At this point while the sauce cooks the water should be boiling. Add 2 tablespoons of sea salt and pour the pasta in, keep stirring so that it doesn't stick. Cook for the suggested time on pack, but our suggestion is to always try one noodle before draining, you want to cook it 'al dente'. Dente means "tooth" in Italian, it suggests that the texture must be firm and have a bite to it. After you cook pasta regularly, you will just know when it is ready.
Once pasta is ready, drain but keep about 3 tablespoons of cooking water. Add pasta and cooking water to the sauce and stir at high flame for a few minutes.
Drizzle with the remaining EVOO and grate some Parmigiano Reggiano cheese. If you like add some chopped chili for extra spice.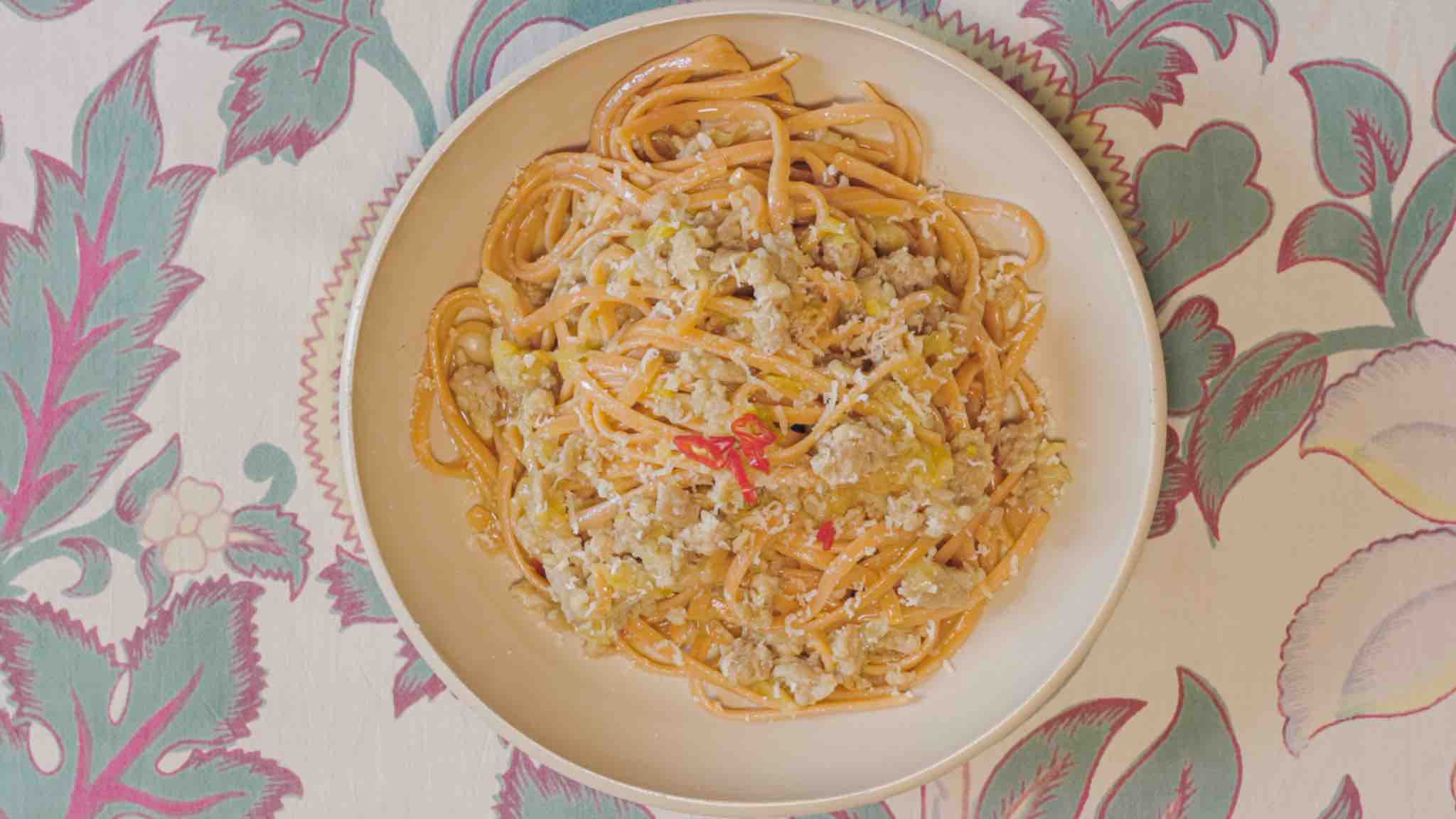 Buon appetito!