Did you celebrate national meatball day this year? Read on to discover how Italians love their meatballs and get your fix with a simple recipe!
In Italy we call them polpette, a staple dish across the peninsula, cooked in different variations depending where you are. The two main categories are fritte (deep fried) or in umido (braised). Fritte are very common in the north, and are eaten as a fun finger food, tapas style during aperitivo. They are bite size delicacies hard to resist, perfect with a glass of bubbly. In umido are braised, either in a white wine sauce or in tomato salsa. This dish is served as a secondo, the course that comes after primo (usually pasta) and before dolce (dessert).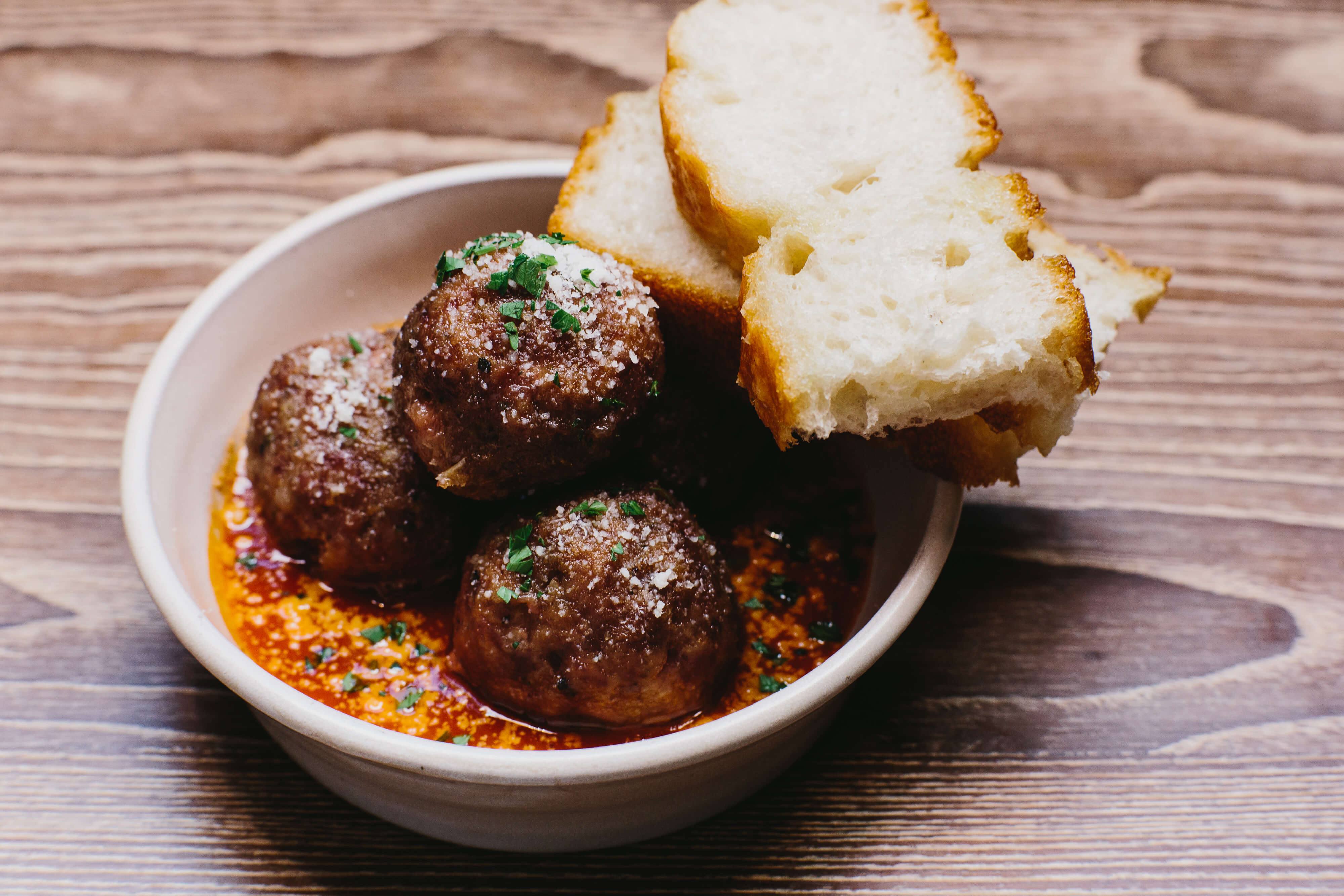 Spaghetti meatballs as we know them in the US, are actually not that common in Italy. In the southern regions there are some pasta dishes with polpettine – very small meatballs and tomato sauce, but it is definitely not something Italians consider a staple dish. Its invention can be attributed to the fascinating cultural exchange that occurred between 1881 and 1901 when more than 2.400.000 Italians migrated to the USA. You have to imagine that in those days Italy was a very poor country; people were used to eating from the land and would barely have access to meat. Italian migrants in the new world found plentiful land and an abundance of meat. They basically re-invented their cuisine recalling that of festivities and celebrations – adding more meat, cheese and sauce to dishes. This is how we believe the iconic dish Spaghetti Meatballs was invented. A great example of how cultural exchange and immigrant communities can give birth to beautiful and delicious things 🙂
Polpette fritte recipe:
Ingredients
¼ pound ground beef
¼ pound ground pork
1 egg
2 slices stale bread
½ cup milk
1 bunch mixed fresh herbs (rosemary, thyme, marjoram, basil, sage, chives…)
1 teaspoon ground cumin
1 teaspoon salt
½ teaspoon pepper
½ cup all purpose flour
1 bottle frying oil (peanut is the best)
coarse sea salt to taste
Method
Tear the bread and soak it in the milk. Once all milk is absorbed add all other ingredients except the flour, oil and coarse salt. Mix well to get a uniform mixture. Place the flour into a flat plate. Shape a tablespoon worth of mixture into a ball shape, roll into the flour and set aside. Repeat for all. Heat the oil, test it with a piece of meatball and make sure it sizzles, don't let it smoke. Gently fry all meatballs, once ready place them onto an absorbent sheet of paper to drain any excess oil. Sprinkle with some coarse sea salt and serve.
Buon appetito!