"Mari e monti" translates to "seas and mountains" and is used in Italian cuisine when seafood and vegetables are paired together in a recipe. Key tips for the perfect risotto? Having enough broth, keeping the rice moist throughout the cooking time, keeping an eye on it and toasting the rice are all essential steps!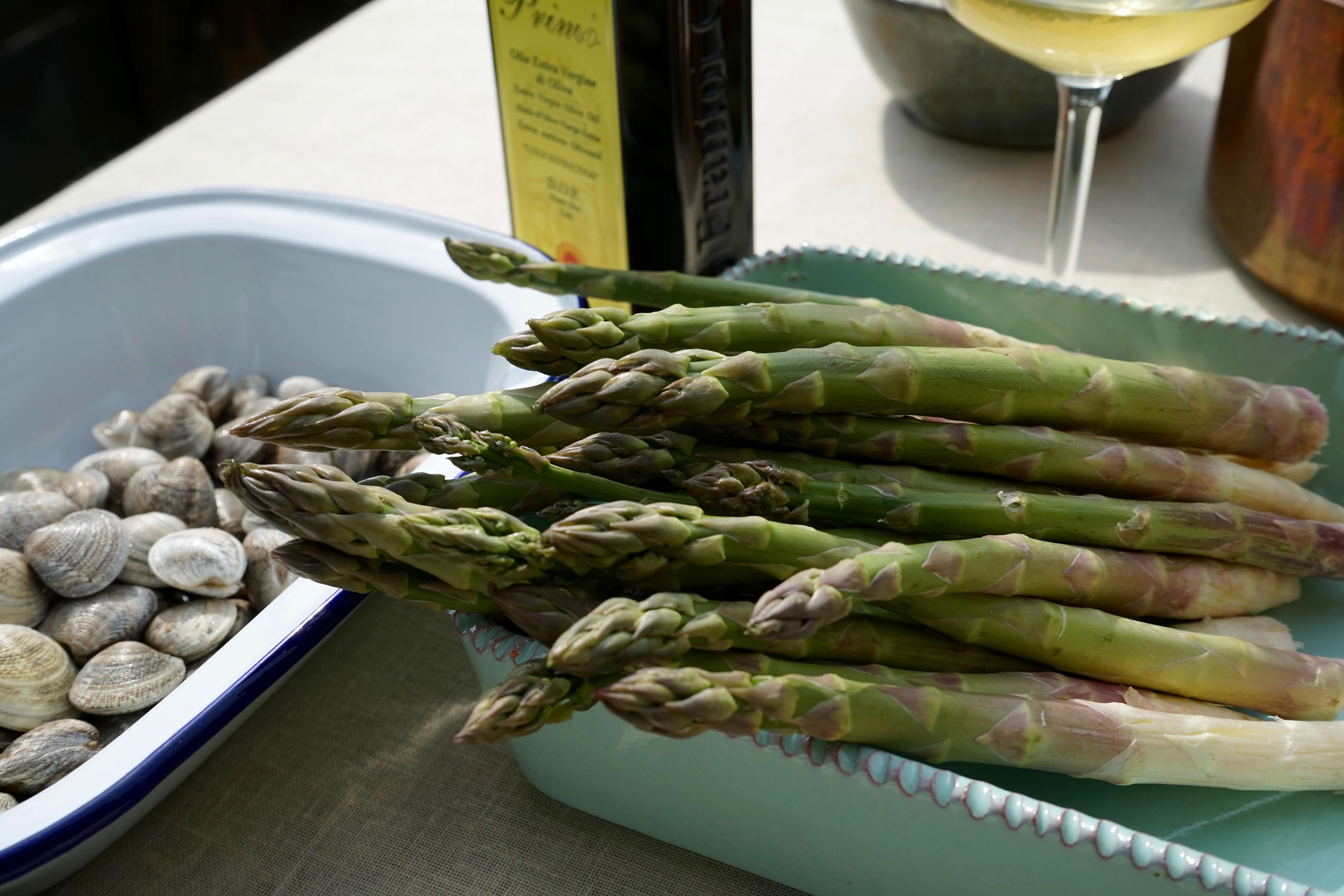 Recipe
Yield: serves 2
Prep time: 15 minutes
Cooking time: 25 minutes
INGREDIENTES
EVOO 6 tablespoons
Chili Flakes, ½ teaspoon
Yellow Onion, 1 diced
Carnaroli or Arborio Rice, 1 ½ cups
White Wine, ½ cup
Asparagus, ½ pound
Clams (Vongole), 1 pound
Parmigiano Reggiano cheese, ¼ pound
Lemon Zest, 1 tablespoon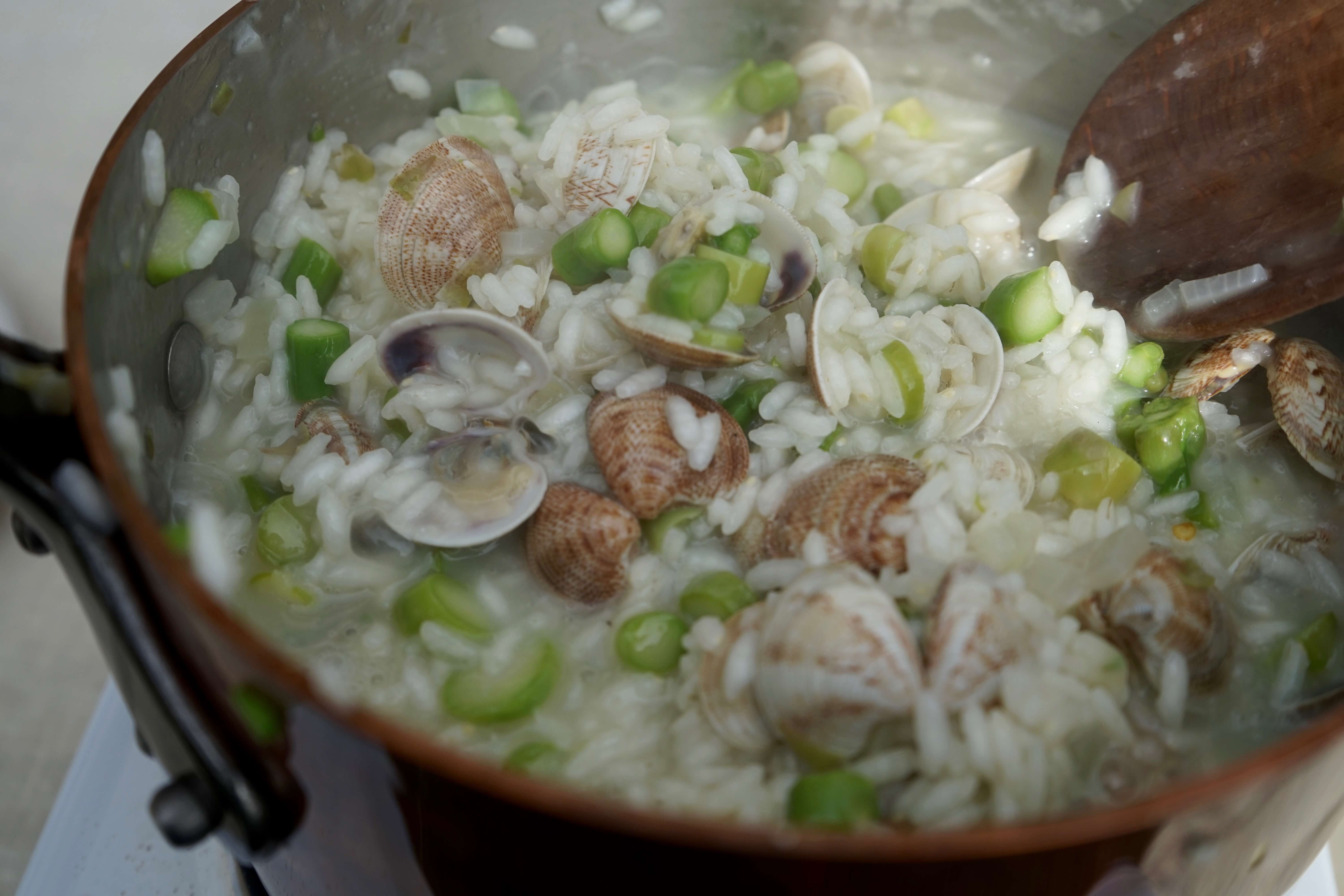 METHOD
Place the asparagus white tips and onion trims (parts you would normally discard) into a pot, cover with about 1 liter of water. Bring to boil and let simmer for about 20 minutes. Set aside, this will be your broth for the risotto. In another pot place the clams, add about 1 cup of water, cover with a lid and place on a high flame. Cook for about 4 minutes, clams will steam and open, set aside.
Dice the onion, and chop the asparagus into 1/2-inch slices, set aside.
Place 2 tablespoons EVOO in a pot at a medium-high heat (copper is the ideal material to cook risotto in). Add the chili flakes and the diced onion. Keep stirring and after a minute add the rice – toast it being sure not to burn it, stir continuously. After about 3 minutes add the wine and stir frequently. Add asparagus broth ½ cup at a time: once absorbed, add more broth, and keep stirring. This is the secret to a good risotto, don't leave it unattended! Stir frequently and keep it moist by adding liquid. After about 10 minutes cooking, add asparagus to risotto. After about 20 minutes cooking add the clams. Add any water from the clam pot, but make sure there's no sand from the clams in it. Once your last ½ cup of broth is absorbed, turn the flame off and add 2 tablespoons EVOO and parmigiano cheese, cover and set aside for a few minutes before serving (this is called the "mantecca"). Serve hot and drizzle remaining raw EVOO and lemon zest.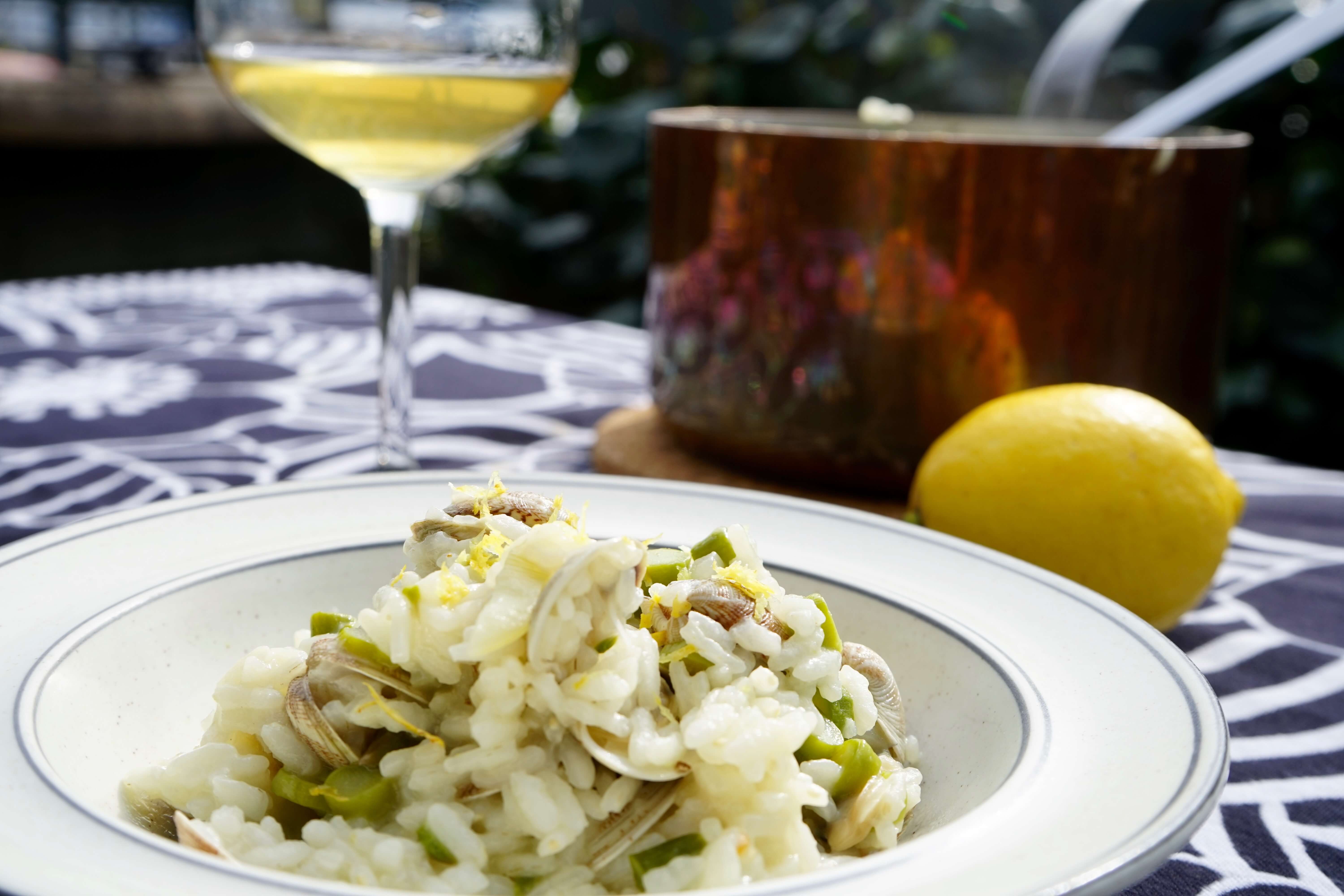 Buon appetito!