Here is an easy recipe to make an authentic and delicious Italian ragù sauce (aka Bolognese sauce).  Today we make it in a gluten free version with our paccheri by Pastificio Morelli made from corn and rice. A great alternative to pasta for intolerances and diet requirements. If you prefer, this recipe works just perfectly with your favourite classic pasta aswell.
Ingredients
2 packs Paccheri by Morelli
EVOO Roi Mosto
1 onion
1 carrot
1 stalk celery
2 lb ground beef
½ lb pancetta
1 lb tomato salsa
1 glass white wine
1 cup milk
salt and pepper to taste
¼ lb Parmigiano Reggiano cheese, grated
Method
Finely chop the onion, celery, and carrot. In a pan heat 2 tablespoons of EVOO and add the vegetables, cook at medium heat for about 5 minutes, then add the minced pancetta or bacon. Let the bacon sweat out some fat, cooking for 5-10 minutes at medium flame, then add the beef. Cook for about 10 minutes, then add the wine. Add one teaspoon of salt and half of pepper. Once the wine is absorbed add the tomato salsa. Cook for 2 hours at low flame, cover and mix often. Then add the milk and cook for another half hour.
Bring a pot of water to boil on the side, salt it and cook the paccheri pasta for 14 minutes, a little less than suggested cooking time, because it will finish cooking in the pan with the sauce. Add the pasta to the sauce with a couple ladles of the cooking water. This water is filled with starch from the pasta, and will help give a creamy texture to your sauce. Mix well and serve with parmigiano reggiano cheese.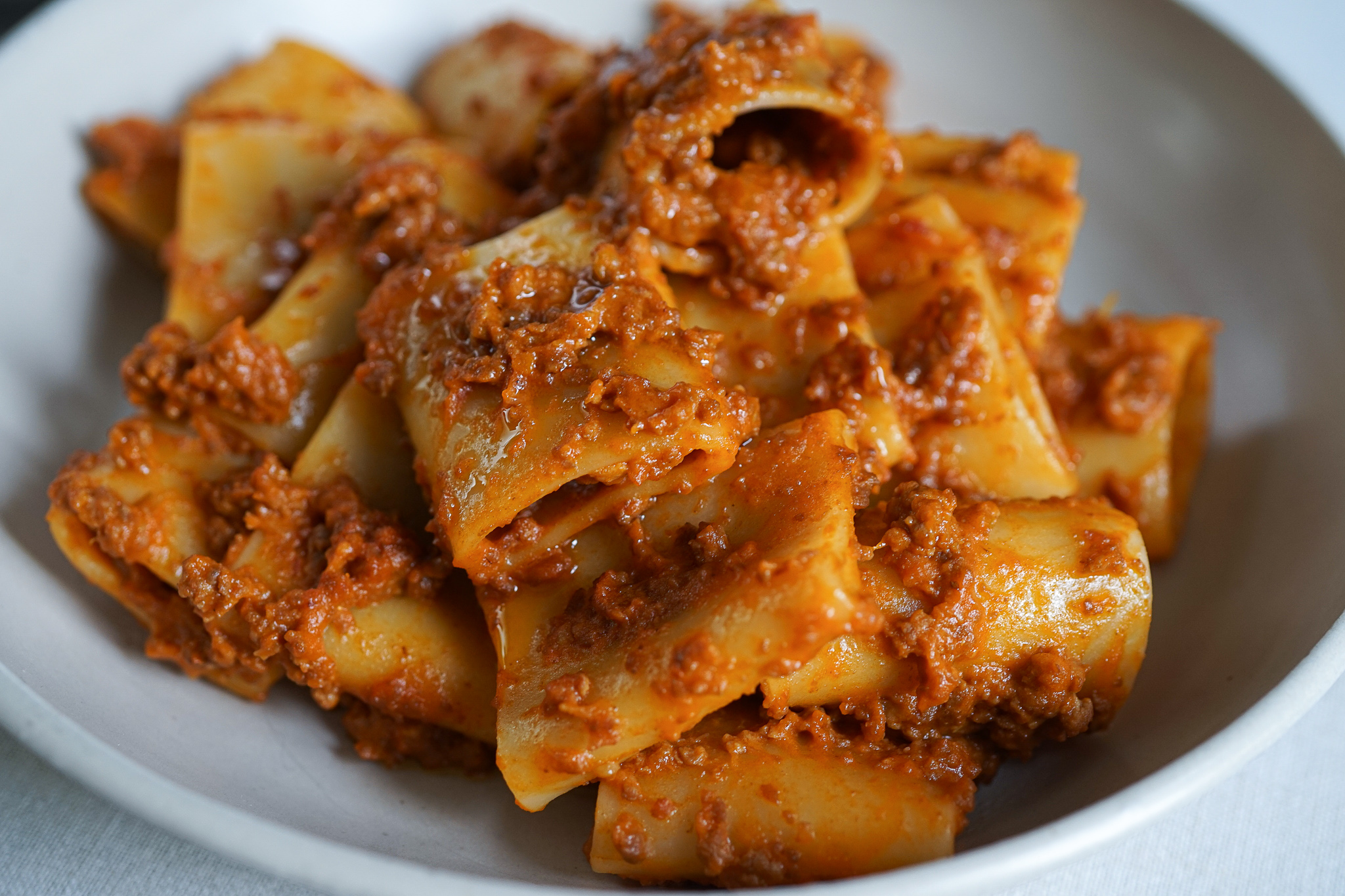 Buon appetito!